We have been such busy bees at CBville that we are just now getting around to announcing December's Girl of the Month! To find out more about GOTM, go HERE for all details; how YOU can be January's girl and get 20% OFF all month long!
Without further ado…

Bethany is a new customer of ours but quickly fell in love with what CrazyBeautiful is all about! So far she's a lover of boots and sassy dresses, who knows what she'll set her eyes on next… Let's learn more about her, shall we?

Age: 25
Occupation: Nurse
How long have you been shopping at CrazyBeautiful?: I just started this year :)
Why do you love shopping at CB?: Everyone there is very helpful and knows how to help me put outfits together that I love.
Describe your personal style in 3 words: Unique, Fun, Comfortable
Recent purchase from CrazyBeautiful you can't live without?: My Rockin Robin boots! Or maybe my cowboy boots! haha I just can't decide.
Current favorite trend (if any)?: (Mixing) brown and black!
Top 5 Current Playlist 
1. Take Care- Drake and Rihanna
2. Rockstar 101- Katy Perry and Rihanna
3. Bass Down Low- The Cataracs
4. Sweat- Lil Wayne
5. Proud of you- Drake and Nicki Minaj

Hometown/Current place you live: Cordova, TN (suburb of Memphis)
Favorite place to people watch: Wolfchase Mall because I've been going there forever and you never know what you're gonna see.
Best place for date night: I like Downtown for date night not necessarily for a specific place but because you can go have a romantic dinner and then go out dancing and have a great time. Not to mention a carriage ride would be super cute.
Best place to go with your girlfriends: Shopping :-)
Best brunch spot: The Flying Saucer: scrambled eggs, hashbrowns, pancakes and bacon yumm yumm. Also mimosas and a bloody mary bar ;-)
One must-see place: Raifords because you can really have a great time there dancing the night away and guarantee someone is always gonna be gettin crazier than you!
Here's one of the outfits she scored on her first shopping trip as Girl of the Month! We're sure many more are to come… can we say helloooo New Years dress?! ;)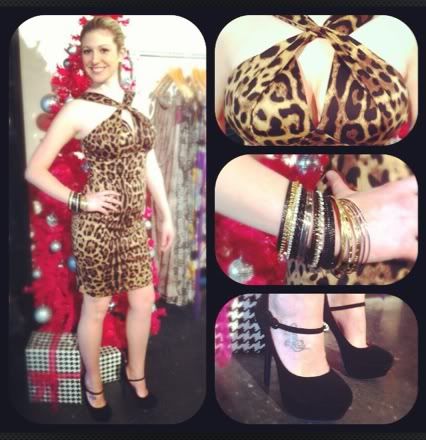 Outfit: Tigress Dress by Ark & Co. $62, Goodness Pump $46, Countdown Bangle Set $16